Looking to expand your business? Selling online just got easier.
According to Statistics Canada, in 2009 Canadians used the Internet to place orders for goods and services valued at $15.1 billion, up from $12.8 billion in 2007.
Retailers today must take advantage of this added revenue stream so having a website with the ability to sell online is a must.
SmartWeb Canada provides custom website design and build packages for you to choose from based on your needs. We then provide you with an impressive, easy to use content management system including a shopping cart that allows you the business owner to update your website at any time. You also receive FREE technical support and software updates.
Key Benefits for Retailers:
Sell products online and feature new products
Offer member discounts and publish gift certificates
Build a member list and create a mailing list
Create a secure virtual storefront online
Promote client testimonials
Post maps and directions
Google Apps set up
Password protected areas for suppliers and staff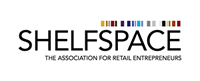 logo-shelfspaceShelfspace is made up of retail entrepreneurs at every level: owner, regional or district managers, store managers and front line staff throughout Western Canada.
We also welcome Associate Members, those who serve the retail industry and offer products and services that support the excellence revolution in retail. We are the space where those with a passion for the industry connect.
As the hub of the retail industry, we connect like minds, offer perspective, share information, provide programs and services and speak as an advocate for the industry.